Activity for Health and Longevity
General Laboratories of fluctuation Medical Science,Inc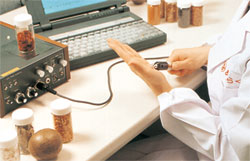 All living organisms and matter in the world contain an inherent vibration frequency(wave).
In addition to the selection of materials for our products, we have introduced technology to measure this wave to help manage the health of our employees and customers. Wave is able to measure around 1,000 different parameters.
Meiraku Ajoene NS-38
As our way of returning the favor to our londstanding regular customers, we are promoting the free delivery of this garic supplement.(Delivery will be to about 310,000 people.) We have also obtained a variety of global patents through our reserch on ajoene, the main avtive compound in garlic.
Minerals

In recent years the use of chemical fertilizers and pesticides has become widespread. Compared 50 years ago, vegetables have only one-tenth of their minute minerals.
"Aisen Kikuno Water" includes more than 22 minerals. We will continue to work towards the solution to this problem in the future.